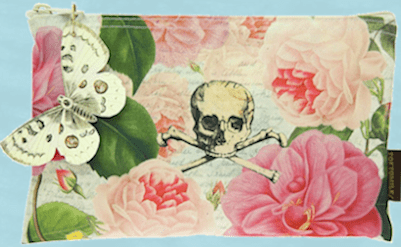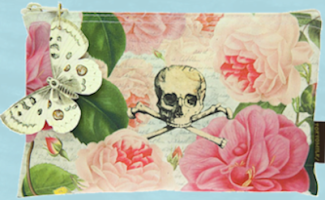 Look what I got for Christmas!  A cosmetic bag that perfectly represents my two series:  The Graveyard Queen and Soul Jumper.
Hello, 2013.
I always find the start of a new year very exciting (as opposed to the beginning of a new book, which is terrifying because I'm sure I've already used up all my best ideas and all the good words in previous stories).
2013 has the possibility to be an especially thrilling year for me, what with the continuation of The Graveyard Queen series, the approaching launch date of my first YA paranormal thriller and the prospect that I may actually get to see some of my most beloved characters come to life in a television pilot for NBC (fingers and toes all crossed on that one).
In Graveyard Queen Book Four, THE VISITOR, Amelia faces new challenges, new dangers, and an even more terrifying gift from the legacy she uncovered in THE KINGDOM.  Devlin is hiding his own secret, one that is far darker and deadlier than anything Amelia could have imagined. With her destiny and Devlin's past on a collision course, Amelia receives guidance from an unexpected visitor.
As you can imagine with tentative titles like CHRYSALIS, CHANGELING and FLUTTER, my YA series will be bursting with moth and butterfly imagery and motifs.  Fitting, since I'll be dealing with matters of the soul.  I don't want to reveal too much about the series at the moment, but I'll leave you with this comment from one of my critique partners:  "It's kind of like HUNGER GAMES with clones and soul-jumping."
Here are some year-end lists that I like: 😉
Kimba the Caffeinated Book Reviewer
No year-end festivities would be complete without a shout-out to all the wonderful friends and readers who've been so supportive over the years, especially with my Graveyard Queen series.  You've helped me reach a new milestone in my career with this series and I thank you from the bottom of my heart.
Best,
Amanda