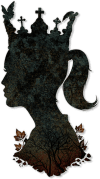 I'm not an autumn person.   There is always something a little sad about the end of summer.  🙁 I do love Halloween, though. 🙂
So I'm finally back to writing full time as of this week, but it's taking much longer than I anticipated to get back into a routine.  Right now I'm trying to once again immerse myself in Amelia's graveyard kingdom.  I'm so close to finishing the fourth book, and yet the end still seems so far away.  But I'll get there.  One page at a time, one day at a time.  Amelia's life has taken an unexpected turn (as has mine).  She's coming to discover that there is more to her gift than she ever dreamed.
I was an Asher by birth, a legacy that came with great wealth and corruption, but Papa's people were simple mountainfolk.  It was from the Grays that I had inherited my dark gift.  Caulbearers, we were sometimes called.  Those of us born with a veil.  It happened every generation or so.
But as more of Papa's secrets came to light, I was starting to suspect that my legacy ran far deeper than the ability to see spirits.  I had been born dead to a dead mother.  My grandmother, Tilly had pulled me back from the other side by cutting away the veil of membrane covering my face and forcing air into my premature lungs, and now I sometimes felt that I belonged to neither world.  I was a living ghost, a wanderer who had not yet found her purpose or place.  But every new discovery, every broken rule brought me closer to my destiny. 
If only I could peer through the keyholes of my eyes and know the future, perhaps I could somehow change my course.  But how did one fight preordination?  How did one combat fate?
 It was a question I pondered often in the dead of night as ghosts drifted by my window.