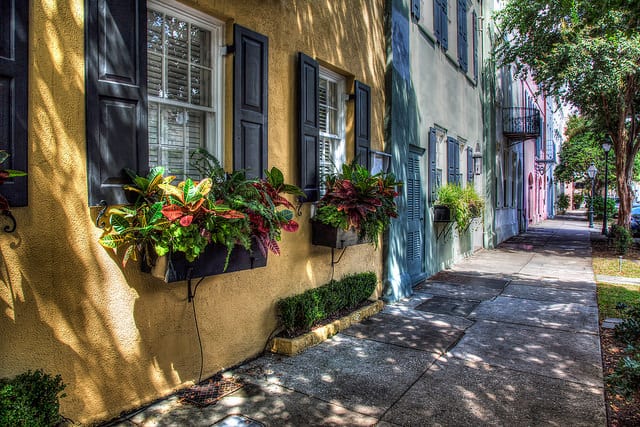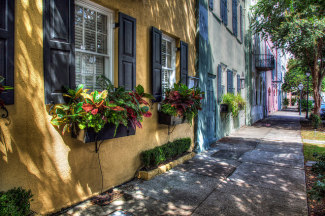 Counting down the days until my trip to Charleston. I can't wait! The City of Steeples is such an important part of The Graveyard Queen series—a character in and of itself—that I almost feel as though I'm visiting an old friend.
Several people have told me that they planned a trip to Charleston after reading The Graveyard Queen books and I can't think of a higher compliment. If you haven't been yet, I say go, go, go!
It's a curious and quaint town, Charleston.  So Southern and historical with cobblestone streets, lush courtyards and shady piazzas cooled by the mildest of sea breezes. And the flowers! Especially in the spring, when the azaleas are in full bloom.
Temple Lee once said of the city: "If New Orleans is midnight, Charleston is twilight, all soft and misty and sweet-smelling."
My friend and I have each picked one place that we simply must visit and then for the rest of the trip, we intend to play it by ear. My must-see destination is the Unitarian Churchyard, a wildly beautiful cemetery that is supposedly haunted by the ghost of the woman who inspired Edgar Allen Poe's poem, "Annabel Lee."
Charleston is full of ghosts–from the spirits of pirates that were hung in Battery Park to the headless torso that roams the historic hallways of Carriage House Inn–and I can't wait to meet them all! Well, maybe not the headless torso. 😉
Look for tons and tons of photos coming soon and, of course, I'll be adding to the Cemetery Gallery.
Have any of you been to Charleston recently?  I would very much appreciate recommendations of restaurants and must-see places to visit.