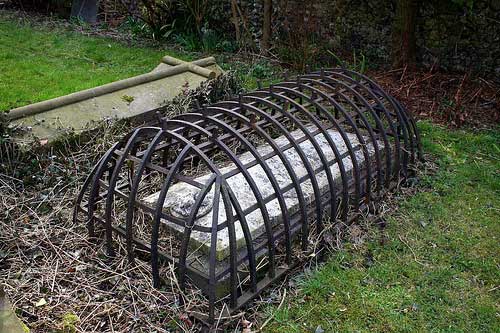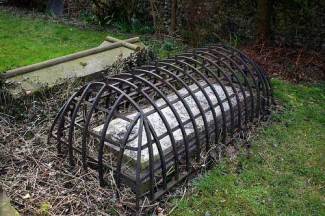 A few weeks ago, I posted a photograph of a caged grave as a clue for the fifth Graveyard Queen book, The Sinner. At that time, I had no idea how I would work one of these mortsafes into the story, only that I wanted to. As it turns out, the concept of a caged grave(s) is pivotal to the main plot line.
Contrary to urban legend and folklore, the heavy iron cages were never intended to keep something in the grave, i.e. zombies and vampires. Instead, they were a means of keeping out grave robbers and body snatchers. As you might suspect, the mortsafes in Amelia's world will do both—keep something in, keep something out. 😉
Here is a very small taste of The Sinner:
The caged grave was an anomaly to Beaufort County. In all my cemetery travels, I'd come across only a handful of mortsafes, mostly in Europe. They were a Scottish invention, cleverly devised and manufactured in the early nineteenth century as a means of thwarting the resurrection men, a rather chivalrous appellation given to the nefarious grave robbers that dug up fresh human remains for profit.
But body snatching wasn't a modern-day concern and from what I could see through the tall grass, the cage didn't appear that old. No more than a few decades, if that. The heavy iron grates had rusted in the salt air, but the rods and plates were still in tact. My heart quickened as I made my way along the overgrown pathway. It wasn't every day I stumbled across such a fascinating find.
Although 'stumbled' was perhaps a misnomer because nothing in my life happened by accident.
………
As you may have noticed, I've added a meter in the right sidebar to track the progress of The Sinner and my other works. The bars will remain static for a few days because I'll be traveling. But when I get back, I'm going to seriously get those things moving again. 🙂
Question. As a title, which do you find more evocative: The Sinner or The Resurrectionists?