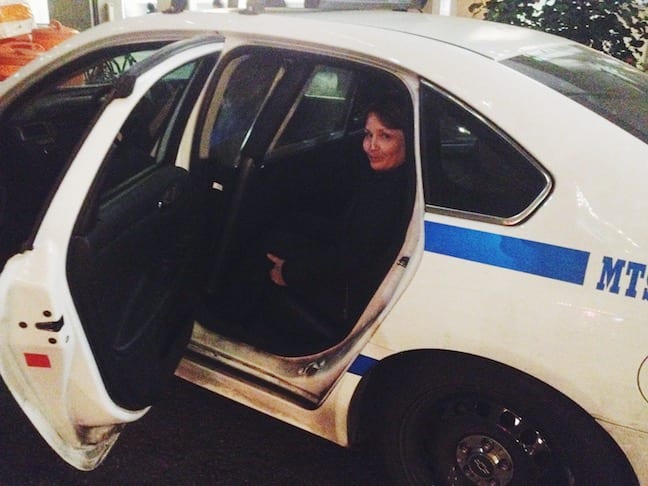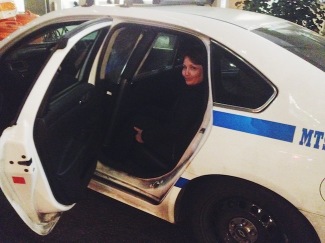 If you saw this photo on my Facebook wall, you may be wondering if I'm posting from the Big House.  Nope.  I'm home, safe and sound, and here's the 411.
Last Friday afternoon, I had my purse stolen while having coffee with my agent in New York. Major, major bummer. I'm usually very careful about watching my belongings, but somehow during the course of the conversation, I got a little negligent and bam! That's all it took. We later saw how the whole thing went down on the surveillance footage. Scary stuff. The guy was obviously a professional and targeted me as soon as he walked into the restaurant. I'm probably lucky this all happened in such a public place.
Anyway, the restaurant called the police and these two young cute cops came to take my statement, and then I had to go to the nearest precinct to talk to a detective. Hence, the ride in the squad car. And by the way, the police–from the officers to the detectives–were the nicest guys ever. New York's finest, indeed.
After my conversation with the detectives, the two young cute cops gave my daughter and me a ride back to her apartment and I have to say, that part of the experience was kind of awesome–speeding through the mean streets of New York in the back of a police car. And I do mean speeding.  O_O
By this time, I'd already canceled all my credit cards so no worries there, but my phone, house key, car keys, everything was gone including my driver's license. If you've ever wondered whether you can board a plane without a photo ID, you can, but it's stressful. And it helps to have a book in hand that is copyrighted under your real name with an author photo in the back. 😉
Actually, it was easier getting through airport security than getting my car from the airport parking garage. I quickly found out that a locksmith can't duplicate a key for my make of car. A replacement can only be acquired through an authorized dealer and guess what? You can't get a key made without a photo ID.
Long story short, I inundated the poor guy at the dealership with documents and paperwork until he finally approved my key. Two days later, I was finally able to get my car from the parking garage and then it was off to the DMV!
What did I learn?
Don't keep spare car key in purse (that's another story).
Remember pin numbers because, turns out, they're kind of important.
Travel with alternate ID and keep them separate.
Fanny packs weren't such a terrible invention after all.
Has anyone else had a similar experience?